I'm linking up with Marcy Crabtree and her
Ben and Me blog
for her Thursday Quick Tips!
© Principled Academy





Art is on my mind! I'm gathering my supplies for today and loading them up in my handy dandy crate. In the process, I'm grabbing my hair dryer. Yes! You read that correctly! Sometimes the drying process for water colors or water base acrylics needs a little speeding up, and my hair dryer does the trick! This sure is helpful since we don't have building space to leave the kids' art at to dry over night! *Be sure to check the paints you use to see if heat is something to avoid!
Check out other Thursday Quick Tips by clicking on the button below!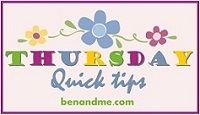 Blessings!